Infrared Thermography
Knowledge &amp technology improving reliability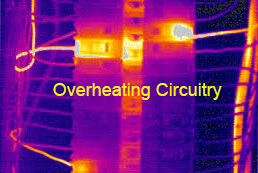 Services Offered
Machinery inspections
Electrical inspections
SOLAS compliant machinery space temperature scans
Solar panel fault identification
Hull &amp deck structural inspections
Moisture &amp osmosis identification
Diesel engine performance &amp diagnostic scans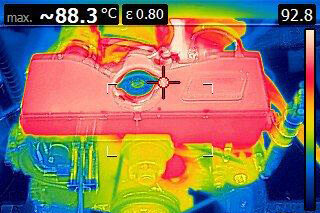 What is infrared thermal imaging?
Infrared thermal imaging is recognised as one of the safest &amp most economical, non-invasive diagnostic &amp preventative maintenance tools available.
Why should you care?
Are you heading out on a long voyage?
Do you operate a commercial vessel and can't afford down time?
If you are either of the above, or if you just hate unexpected breakdowns, take the time to read what infrared thermal inspections can do for you.
What can thermal imaging do?
Battery Condition Scans
An infrared thermal scan of your batteries &amp DC electrical system is a totally non-invasive, effective &amp safe means to identify faulty cells in batteries, loose or corroded connections &amp defective battery isloators &amp switches.
Machinery Inspections
Infrared machinery inspections are a standard preventative maintenance procedure in commerical marine &amp industrial applications.
Effective IR scans can be conducted for
Seawater &amp jacket water cooling system inefficiencies
Bearing &amp drive coupling issues
Hydraulic system faults
Engine performane issues (exhaust gas temperature readings)
Gearbox clutch slippage &amp overheating
Please contact Global Marine Services for a demonstration or to discuss improving your preventative maintenance regime using thermal imaging.
Solar panel inspections
Short on power?
Concerned that your solar panel array is not performing to it's full capacity?
Infrared thermal imaging is recognised as one of the most effective means of testing solar panel systems for defective &amp inefficient cells.
Hull, Deck &amp Structure Scans
Infrared thermal imaging can be used to identify subsurface defects in composite materials. It is a safe, fast, non-contact, non destructive means of investigating for delamination, osmosis, dry rot &amp structural damage or repairs.
A form of infrared imaging called "Active Thermography" is used when working with composites.
When using active thermography a thermohrapher heats an area &amp observes the change in it's thermal signature as it cools.
To see if active thermal imaging can help you;
Electrical inspections
Heat is the enemy of all electrical componenets.
A thermal inspection of your AC electrical system can easily identify overheating conductors, switches, circuits, motors, alternators &amp all other electrical hardware.
How does thermal imaging work?
All objects at a temperature above absolute zero emit some level of infrared energy. A correlation can be drawn between the infrared energy emitted from an object and it's temperature. This energy is an electromagnetic wave, the frequency of which, is incapble of being detected by human eyesight. Electronic devices have been developed which are capable of detecting infrared radiation and converting it to a form which people can see. These devices are commonly referred to as thermal imagers and the persons trained to operate them are thermographers.
The majority of mechanical &amp electrical equipment generate more heat when they are faulty or operating outside there designed capacities. An experienced thermographer can identify &amp record these hot spots allowing components to be repaired before their is a failure.
Thermal imaging has been in use commercially since the 1980's. It is recognised as one of the best, non-invasive, proactive, fault finding techniques and predictive maintenace tools available. Thermal inspecions have become widely accepted in commercial industries, power generation &amp oil &amp gas exploration &amp production. Research has shown that for every dollar spent on an infrared preventative maintenance regime there is a four dollar savings to be recouped in improved reliability &amp decreased down time.
Our thermal imaging equipment
The Test 868 is a German manfactured thermal imaging camera capable of an infrared resolution of 160 x 120 pixels. The camera is equipped with Testo's Super Resolution feature allowing thermal images to be compounded, resulting in a virtual resolution of 320 x 240 pixels. It is equipped with a 31 deg x 23 deg fixed focus lens that permits a minimum focus distance of 0.5m. An integral digital camera provides visual images which can be spliced into thermal images using special Testo software.
The imager has a temperature measurement range of -30 deg to 650 deg Celcius and an infrared spectral range of 7.5 to 14 um.
The Testo app provides wireless mobile connectivity &amp remote operation. Testo IRsoft software enables full post production editing &amp report generation.
Offering excellent image resolution, portability &amp ease of operation, the Test 868 is ideally suited to marine survey applications.
Contact us today to discuss what thermal imaging can do for you.